Paleomagnetic applications in HC-Exploration
: --------------------------------------------------------------------------------------------------------------------------------------------------------------------------------------------

IT IS COST SAVING

By the use of our magneto

processing program

it is possible to orient old core specimens. The correct alignment is based on the analysis of a number of plugs taken from the core specimen, usually 3-5. The same plugs may later be used for standard por-perm analysis.

Demagnetisation of samples is carried is carried out by the use of a specially constructed oven and by alternation field devices shielded from the ambient field.

The shifting direction of the geomagnetic field makes it possible to use the timelines defined by the polarity zones for chronostratigraphic correlations. This is particularly advantageous for continental sequences barren of age diagnostic fossils. Magnetostratigraphy has further proven succes full for calibration of sequence- and biostratigraphic models.
<>








Fabric analysis by magnetic methods can reveal a sedimentary fabric which may not otherwise be apparent. For example, a stress induced fabric or a fabric produced by a depositional current in the higher flow regime can be detected by magnetic methods. By the use of a high-sensitivity kappa bridge we determine and interpret sedimentary fabric from core samples or drilled side wall plugs. When combined with magnetic reorientation of the samples the direction of the depositional currents can be determined.




The anisotropy ellipsoid. Kmax is the direction in which the sediment is most easily magnetised. Kmin is the direction in which the sediment is most difficult to magnetise.

When the reworking or complete absence of age diagnostic fossils restricts any use of traditional biostratigraphy, reliable determination of the magnetic polarity becomes important as an alternative tool for chronostratigraphical correlations of cores, dating and determination of sedimentation and subsidence rates. The precondition for succesfully applying this method is the preservation of primary magnetic minerals in the sediment. Tertiary sediments and older sediments unaffected by severe diagenetic changes have proven especially suitable for such analyses for calibration of the biostratigraphy. Redbeds have also proven useful regardless of the age of the sediment. For Triasic and pre-Triassic rocks palaeomagnetism may be the only method for dating.

Click on the figure for a larger picture.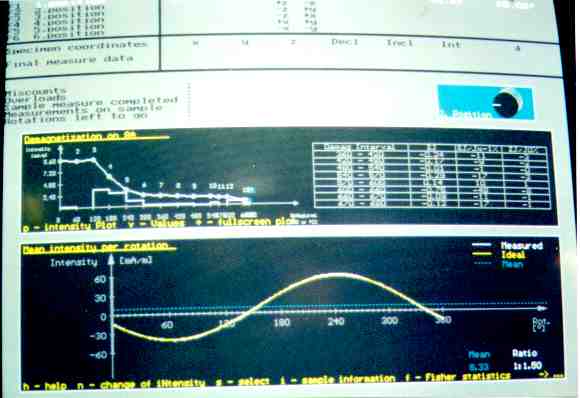 The magnetic data is interpreted by the use of our in house software.
-----------------------------------------------------------------------------------------------------------------------------------------------------------------------------
If you have any enquiries, please, do not hesitate to contact us::







NORWAY
CB-Magneto, P.O.Box 804
Nedre Strandgate 41
N-4005 Stavanger, Norway tel. +47.51.52.76.29, mob +47.97.58.08.24
e-mail: cb-m@online.no



DENMARK
Niels W.Gades vej 10, DK-8000 Aarhus C, Denmark tel. +45.86.95.27.95 mob +45.21.42.95.84 e-mail: cb-magneto@cb-magneto.com